How to get to Viñak Refuge
Download Google Maps Directions
Address : Sierra de Lunahuaná, Santiago de Viñak, Peru.
Getting to the refuge can be a bit difficult if you do not know the route, that's why when you travel to the refuge we invite you to contact our administration for any hesitation. It is very important to be guided only by the route map provided by the refuge.
We ask you to make a reservation before your trip to the refuge. Thank you very much for your understanding.
Telephones for question about reservations: 51 1 221-1313 ext. 105 / 51 1 971 427 017
E-mail: info@refugiovinak.com
Our office: Av. Javier Prado Oeste 757 - 7th Floor, Of. 706 (Mountain Lodges of Peru)
Magdalena del Mar, Lima, Peru.
Attention Schedule: Monday to Thursday from 9 am until 1 pm and from 3 pm until 5:30 pm. Friday from 9 am until 1 pm.
Transport Service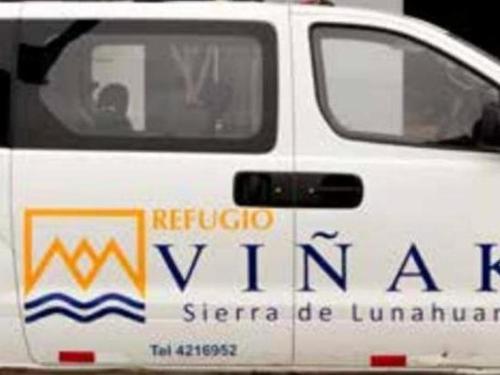 • We have two minibuses transport service, both have capacity of 18 passengers.
• The transport service will depart from a meeting point
designated by Refugio Viñak, the place and time will be confirmed with some days in advance.
• Meeting point from Lima: Av. Mariscal Castilla 768, Santiago de Surco.
• Departures from Lima: Tuesday and Friday 7:00 am (waiting tolerance 30min), arriving to Refugio Viñak approximately 1 and 2 pm.
• Returns to Lima: Thursday and Sunday 10 am (waiting tolerance 30 min.), reaching Lima between 3 and 4 pm approximately.
NOTE: Service will be available according to use confirmation at the time of making your reservation.